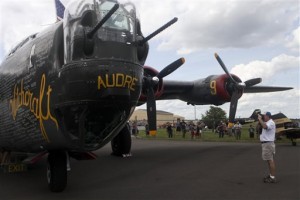 A World War II veteran who commanded a B-24 bomber over Europe got the chance to ride in one of the planes as part of a vintage aircraft tour.
The Kalamazoo Gazette reports (http://bit.ly/1SSVe5k ) 91-year-old Paul Smith flew on the plane this week. The restored B-24 Liberator is at the Air Zoo near Kalamazoo alongside two other World War II aircraft, a B-17 Flying Fortress and a P-51 Mustang.
Smith recalled "a lot of nervousness, anxiety" from his wartime flights.
The planes are featured at the museum as part of the Collings Foundation Wings of Freedom tour, which continues through Friday at the Air Zoo in Portage before making other stops. The tour includes a chance to check out the planes and go on flights.  (AP)