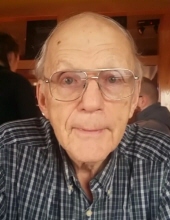 Richard I. Ware, age 88, of Sturgis, passed away Monday evening December 21, 2020 at Borgess Medical Center in Kalamazoo.
He was born March 2, 1932 at the family home near the Marantette Bridge in Mendon, son of the late Victor and Delcie (Johnson) Ware.
Dick was a longtime Sturgis resident of Sturgis. Before moving to Sturgis he lived in Colon and he was a graduate of Centreville High School with the class of 1950.
On May 22, 1954 he married Dolores Pokorny at Holy Angels Catholic Church in Sturgis.
Dick retired from Frye Copy Systems in Sturgis following several years of dedicated employment. Prior to joining Frye Copy Systems he had been employed by Harker Electric in Sturgis.
He was a member of Holy Angels Catholic Church and enjoyed fixing things including televisions and radios and he took pride in fixing the clock that is mounted outside the Sturgis Fire Department. Dick was an avid lottery player and a veteran of the U.S. Air Force.
He is survived by his loving and dedicated wife of 66 years: Dolores; two daughters: Ann Ware and Debra (Doug) Miller both of Sturgis; six grandchildren: Alan Albarran of Sturgis, Taylor Albarran of Sturgis, Jaymes (Katie) Miller of Ludington, Kimberly (Fred) Shoup of Sturgis, Victoria Russell of New York, New York and Anne Russell of South Portland, Maine; two great grandchildren: Evie and Winnie Miller and many nieces and nephews.
He was preceded in death by his parents; two daughters: Jennifer Ware and Victoria Russell; one sister: Betty Wegner and two brothers: Lyle Ware and Donald Ray Ware.
In accordance with his wishes cremation has taken place. A memorial service celebrating and honoring the life of Richard I. Ware will be held at a later date to be announced.
The Hackman Family Funeral Homes of Sturgis is entrusted with the arrangements. Those wishing to express condolences to the family are invited to send notes and cards to Dolores Ware, 102 Maplecrest St., Sturgis, MI 49091 or at www.hackmanfamilyfuneralhomes.com.