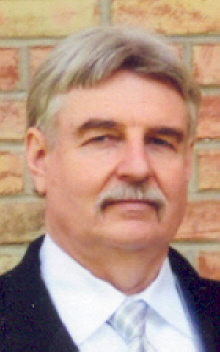 Stephen Shingledecker, age 59, of Warsaw, Ind., passed away Sunday, Oct. 28, 2012 at 6:08 p.m. at Lutheran Hospital, Fort Wayne, Ind. He was born Dec. 22, 1952 in Three Rivers to Robert and Roeberta (Barnes) Shingledecker.
Stephen was a 1971 graduate of Three Rivers High School, received his Associates Degree in 1974 from Michigan Technological University and Bachelors Degree in Electrical Engineering Technology from Purdue University in 1977. In Three Rivers on June 19, 1976 he was united in marriage to Karen Grady. He was a Warsaw, Ind. resident since 1981 and is formerly of Eagan, Minn. He retired from R.R. Donnelly and Sons, Warsaw, Ind. after 23 years of service and is currently the I.T. Manager for Cardinal Center, Inc. of Warsaw. He is a member of the Northern Lakes Ice Skating Association and the Institute of Electrical and Electronics Engineers.
He is survived by his wife, Karen Shingledecker of Warsaw, Ind.; a son, Michael Shingledecker of Warsaw, Ind.; a daughter, Rebecca (spouse Matthew) Philpott of Hudsonville; mother, Roeberta Shingledecker of Three Rivers; sisters, Mona Steiner of Warsaw, Ind. and Trudy (spouse Frank) Herkenroder of Elkhart, Ind.; aunt, Gertrude Mohney of East Leroy; father-in-law, Joe Grady of Oregon, Ohio; several nieces and nephews.
Visitation is scheduled for Thursday, Nov. 1 from 4 to 7 p.m. in McHatton-Sadler Funeral Chapel, Warsaw, Ind. Graveside services will be held Friday, Nov. 2 at noon at Lower Flatbush Cemetery, Three Rivers. Pastor Denny Wilson of Warsaw Community Church will officiate the service.
Memorial contributions may be directed to:
Animal Welfare League of Kosciusko County
P.O. Box 1906
Warsaw, IN 46581
Or
Michigan Technological University
Office of Development
Citizens Bank Building, 7th Floor
1400 Townsend Dr.
Houghton, MI 49931-1295
To sign the guestbook or to send condolences electronically, go to mchattonsadlerfuneralchapels.com.