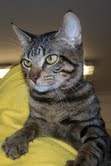 Hi, my name is Twilight and I am a male tiger about 10 months old. I have a little motor and I like to snuggle and purr; all you need to get me started is simply rub my fur. The ladies say I am a very sweet boy. I am available to adopt right now so please come and see me. I can be found in Pen 7, Docket # 11217, at the St. Joseph County Animal Control Shelter located at 652 E. Main St., Centreville, MI. Animal Control is open Monday – Friday, from 9:00 a.m. – 4:30 p.m. Their phone number is 269-467-6475. Up-Cycled Pets needs reliable foster homes so some pets can leave the shelter and learn more about living in a safe home before adoption. Go to www.upcycledpets.com for more information about how to help this group. Please visit the Animal Rescue Fund website at www.arfund.org to see more adoptable pets. Last week's Pet of the Week has been adopted but Shelba, the grey kitty from is still at animal control and still hopes to find a family to love her. Animal Rescue Fund of St. Joseph County (ARF) has a small number of volunteers who donate their time to transport pets to local veterinary clinics for the purpose of spay and neutering. Low-income residents, elderly residents and those without transportation need assistance in spay and neuter of their pets, but do not have reliable transportation.
ARF is in need of a van in good working condition for transport of needy cats and dogs. If you would like to make a tax-deductible van donation, please call ARF at (269) 718-3826.
Visit arfund.org and find ARF on Facebook.