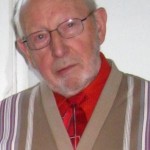 John L. Currier, age 84, of Sturgis, Michigan passed away early Thursday morning February 27, 2014 at his home.
He was born August 19, 1929 in Burr Oak Township, Michigan eldest son of the late Leo and Elizabeth (Nusbaum) Currier.
John resided in the Sturgis and Burr Oak, area his whole life. On August 31, 1947 he married Edna Miller at the Locust Grove Mennonite Church in Burr Oak, Michigan. She died July 2, 2013.
John was a talented meat cutter by trade. He worked for the Wall Packing Company in Sturgis from the age of 16 until the company closed in 1969. At that time he joined the Economy Market in Sturgis where he worked until his retirement. Following his retirement he worked as a grounds keeper at the Klinger Lake Country Club in Sturgis.
John enjoyed fishing, riding motorcycles and racing cars. He dearly loved his family and was so very proud of his grandchildren and great grandchildren.
He is survived by two daughters: Karen (Joe) Gleason and Kathy Currier both of Sturgis; two sons: Stephen (Laura) Currier of Greenwood, Indiana and Jim (Beverly) Currier of Sturgis; eight grandchildren: Jeff Schroeder, Tonya (Chad) Darr, Jon (Katie) Currier, Gabe (Angie) Currier, Rachel (Scott) Kear, Caleb (Cecelia) Currier, Jessica Currier and Benjamin (Cleo) Currier; 22 great grandchildren; one great great grandchild; three sisters: Elvina Williamson of New Castle, Indiana, Mary (Jerry) Cronkhite of Burr Oak and Catherine Brinkley of Ypsilanti; three brothers: William (Gaye) Currier and Samuel (Cooky) Currier both of Burr Oak and Paul (Rosemary) Currier of Sturgis and many nieces and nephews.
He was preceded in death by his parents, wife and one grandson: Jacob Currier.
The family will receive friends from 2:00-4:00 and 6:00-8:00 P.M. Sunday at the Rosenberg Chapel of Hackman Family Funeral Homes, 807 E. Chicago Rd., Sturgis, MI 49091, 269-651-3284. Funeral service celebrating the life of John L. Currier will be held at 11:00 A.M. Monday at the Sturgis Wesleyan Church. The Rev. Steve Bean will officiate. A graveside committal will follow the service at Oak Lawn Cemetery in Sturgis.
The family suggests those wishing to make a memorial donation in Mr. Currier's memory consider Sturgis Wesleyan Missions, 907 N. Nottawa St., Sturgis, MI 49091.
The obituary is also at www.hackmanfamilyfuneralhome.com where personal messgaes of support may be left for the family.