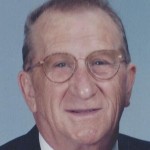 Dale E. Sponseller, age 87, of Sturgis, Michigan passed away Sunday morning March 9, 2014 at his home.
He was born April 5, 1926 in Jackson, Michigan son of the late Dale and Lucille Sponseller.
Dale's early life was lived in the Hastings area where he was a graduate of Hastings High School with the class of 1944. While in high school he excelled in athletics especially baseball and pitched more than one perfect game. Following graduation he enlisted in the U.S. Army Air Corp serving in WWII as a tail gunner aboard the B-25 Bomber flying 25 missions. He also served during the Korean War in communications earning the rank of Staff Sergeant.
His working life began with the General Bell Telephone Company where he worked as a serviceman. Later he became a salesman for Reams Pontiac Cadillac dealership in Hastings. He moved to Sturgis in 1957 to become the co-owner of the Sturgis Bowling Alley located on North Street. In 1959 he and his partner built the Sturgis Bowl located on South Centerville Road. A business they owned and operated for six years. At this time he assumed the ownership of the Culligan Water Conditioning franchise for St. Joseph County operating the business for several years. Dale also owned and operated Perry Excavating Company in Sturgis for several years. Moving to Dallas Texas for 10 years where he oversaw the setting up of wash plants and buying and selling of equipment.
On December 18, 1981 he married Rosemary Trattles at the First United Methodist Church in Sturgis.
Dale was a member of B.P.O. Elks #1381, life member Captain John J. Kelley Post #1355 VFW and a past member of the Sturgis Kiwanis Club and loved hunting and fishing.
He is survived by his wife: Rosemary; four sons: Doug Sponseller of Vicksburg, Randy (Patti) Sponseller of Conway, New Hampshire, Tim (Luisa) Sponseller of North Pole, Alaska and Jeff (Tracie) Sponseller of Evans, Georgia; two step-daughters: Connie (Carl) Deeds and Pam (Orin) Evans both of Sturgis; 16 grandchildren; 13 great grandchildren; one sister: Mildred Ribble of Easley, South Carolina and several nieces and nephews.
He was preceded in death by his parents; two sons: Dennis Sponseller and Mark Sponseller; one sister: Thelma Lake and one brother: Royal Sponseller.
The family will receive friends from 2:00-4:00 and 6:00-8:00 P.M. Wednesday at the Hackman Chapel of Hackman Family Funeral Homes, 114 S. Nottawa St., Sturgis, MI 49091, 269-651-2331. Funeral services celebrating the life of Dale E. Sponseller will be held at 11:00 A.M. Thursday at the First United Methodist Church in Sturgis. The Rev. Deb Johnson and Pastor Bob Keim will officiate. A graveside committal will follow the service at Oak Lawn Cemetery in Sturgis where full military honors will be conferred by Captain John J. Kelley Post #1355 VFW and the U.S. Air Force Honor Guard.
The family suggests those wishing to make a memorial donation in Mr. Sponseller's memory consider the ALS Association, Development Department, 1275 K Street NW, Suite 250, Washington, DC 2005 of the veteran organization of one's choice.
The obituary is also at www.hackmanfamilyfuneralhome.com where personal messages of support may be left for the family.