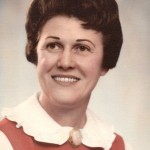 Frances Emma Shively, age 93, of Three Rivers, passed away peacefully on Wednesday, March 19, 2014 at the Bowman House where she resided. She was born on March 15, 1921 in Three Rivers the daughter of the late Elmer E. and Emma C. (White) Brown.
Mrs. Shively attended school both in Beloit, WI., and Three Rivers where she graduated. On July 19, 1942 she married the love of her life Mr. James Herbert Shively. Frances began work as a cashier at Montgomery-Ward Store and Neff's Flower Shop after school. She later became the business office supervisor for Michigan Associated Telephone Co. which later became General Telephone where she retired.
Mrs. Shively was preceded in death by her parents, husband, three siblings, Edythe J. Marston, Virgil W. Klopp, and Richard D. Brown, and son-in law, Michael Swearingen.
She leaves to cherish her loving memory, two daughters, Carolyn Frances (Orlin) Roberts, of Three Rivers, and Eloise Mae Swearingen, of Big Rapids, MI.; two grandchildren, Kathleen F. (Swearingen) LaRue and James Heenan Swearingen; one sister, Kathaleen E. Tobin and one brother, Harry Scott Brown.
The family will receive friends from 6-8 p.m. on Tuesday, March 25, 2014 at the Hohner Funeral Home.
Funeral Services will be held at 2:00 p.m. with visitation one hour prior on Wednesday, March 26, 2014 at the Hohner Funeral Home with Hospice Chaplain Johnny Groda officiating.
Interment will be held at Riverside Cemetery, Three Rivers.
Memorials may be donated to the Red Cross of St. Joseph County, Salvation Army, or the Three Rivers Health Auxiliary. Envelopes available at the funeral home. Online condolences may be left at www.hohnerfh.com