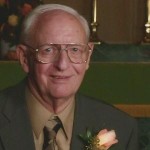 Russel D. Ames, 86, of Sturgis, passed away Saturday morning, March 1, 2014 at his home.
He was born July 24, 1927 in Three Rivers, son of the late Claude and Mildred (Ernest) Ames.
Russel resided in Sturgis since 1948 coming from Three Rivers. On Dec. 31, 1948 he married Joyce Ann Holtz at the Trinity Lutheran Church in Sturgis. This marriage was the first performed by the Rev. Herbert M. Heidenreich in Sturgis.
He retired in 1989 from Fry Copy Systems in Sturgis following 15 years of employment. Prior to joining Fry Copy Systems he worked at Sturgis Newport Business Forms in Sturgis for 23 years.
He was a past member of the Trinity Lutheran Church in Sturgis. Russel enjoyed fishing, woodworking and crafts and dearly loved his Cocker Spaniel, Sophie.
He is survived by his loving and dedicated wife of 65 years, Joyce; one daughter, April Ann Ames of Sturgis; two sons, Norman Duane Ames of Cheyenne, Wyo. and Marc Allan Ames of Sturgis; eight grandchildren; nine great-grandchildren and several nieces and nephews.
He was preceded in death by his parents and one son, Craig Robert Ames in 1996.
The family will receive friends from 12:30-1:45 p.m. Thursday at the Hackman Chapel of Hackman Family Funeral Homes, 114 S. Nottawa St., Sturgis, MI 49091, 269-651-2331. Funeral services celebrating the life of Russel D. Ames will be held at 2 p.m. Thursday at the funeral home. The Rev. Barry Sommerfield of the Celebration Church in Sturgis will officiate. A graveside committal will follow the service at Oak Lawn Cemetery in Sturgis.
The family suggests those wishing to make a memorial donation in Mr. Ames' memory consider Operation Smile, 3641 Faculty Blvd., Virginia Beach, VA 23453.
The obituary is also at www.hackmanfamilyfuneralhome.com where personal messages of support may be left for the family.