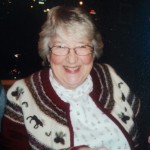 Shirley Ann Alburtus, age 79, of Centreville, passed away Friday, March 7th, 2014 at her home. She was born in Cass County , MI on March 8, 1934, a daughter of C. Glenn and N. Beulah (Barnhart) Carlin. Shirley graduated from Centreville High School in 1952. In 1955 she married Walter J. Hecht in Nottawa. On January 15, 1983 she married Robert L. Alburtus in Three Rivers. He preceded her in death September 29, 2013. Shirley worked as a supervisor at General Telephone, Three Rivers retiring after 35 years of service. She also worked as a clerk for Bird, Svendsen, Mestelle & Scheske PC in Sturgis. Shirley enjoyed shopping and craft work including making jewelry and sewing and was an animal lover.
Surviving are her daughter Lou Ann (Lee) Brown, Sturgis, son Jeffrey (Dawn) Hecht, Centreville, sister Glenna (Joe) Happel, Centreville, brother Dick (Beverly) Carlin, Avondale, AZ, grandchildren Scott Post, Sturgis, Lindsay (Brian) Lash, Sturgis, Amanda (Michael Shirey), Three Rivers, great grandchildren Jace, Ashlyn, Andrew and David, and several nieces and nephews. She was preceded in death by her parents, husbands, Walter Hecht and Robert Alburtus, brother Robert Carlin and sister Norma Carlin.
Cremation has taken place. Relatives and friends will be received Tuesday, March 25th, 2014, from 10 to 11 am at Church of the Nazarene, 1223 Coon Hollow Rd., Three Rivers where a Memorial Service celebrating the lives of Shirley and Robert will be held at 11 A.M. Reverend Robert Anderson will officiate. Memorial contributions may be made to Animal Rescue Fund, P.O. Box 593, Centreville, MI 49032. Online messages may be left for the family at  www.eleyfuneralhomes.com.