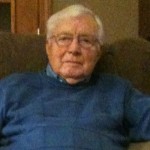 Harold Marlowe Blough, age 81, of Three Rivers, went to be with his Lord on Saturday, April 5th, 2014 at the Bowman House surrounded by his loving family. He was born in Vistula, Indiana, on Sept. 2, 1932 the son of the late William and Pauline (Judy) Blough.
Mr. Blough has been a long time resident of this area. On Nov. 23, 1957 he was united in marriage to the love of his life, Linda L. (Robison) Blough. Harold served his country honorably in the United States Army until his discharge where he and Linda made Three Rivers their home .
Harold was employed as an electrician for Victorian Homes, Middlebury, IN., for many years before his retirement. Not one to stand still, Harold immediately started a landscaping/lawn mowing business with his wife. He and Linda could often be seen about town mowing and trimming yards always with his signature smile. He briefly sold real estate with Century 21. Harold and Linda were very active and faithful members of Howardsville Gospel Chapel.
Mr. Blough was preceded in death by his parents, his wife, Linda who passed in 2012, and one brother, Levone Blough.
He leaves to cherish his loving memory, one daughter, Deborah (David) Leland, and their sons, Zachary, Jordan, and Ryan Leland, of Three Rivers; one sister, Judy Welty; very special friends, Doug (Diane) Weiandt; as well as many extended family and very close friends.
The family will receive friends from 5-7 p.m. on Thursday, April 10th , 2014 at the Hohner Funeral Home.
Funeral Services will be held 11:00 a.m. Friday, April 11th , 2014 at the Howardsville Gospel Chapel, with Rev. Sheldon Combs officiating.
Interment will be held in Howardsville Cemetery.
Memorials may be donated to the Great Lakes Hospice Association. Envelopes available at the funeral home. Online condolences may be left at www.hohnerfh.com.