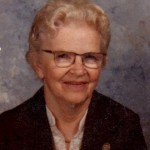 Mrs. Phyllis Swanwick, age 95, of Three Rivers, passed away peacefully on April 27th, 2014 at the home of her daughter surrounded by her loving family. She was born July 22, 1918 in Three Rivers, MI. the daughter of the late William and Gertrude (Buck) Wright.
Mrs. Swanwick has spent her entire life in Three Rivers, save two years in Rockton, IL. She graduated from Hononegah High School in Rockton, IL. On June 4, 1938 she was united in marriage to Mr. William Swanwick at the 9th Street Methodist Church where she and Bill were lifelong members and Phyllis was Chairperson of Missions. In 1987 William and Phyllis were appointed Three Rivers Lions Club "Citizens of The Year". In 2005 the Three Rivers Rotary Club Awarded Phyllis with the "Paul Harris Fellow Award" for outstanding community service. Phyllis volunteered for "Emergency Care Network" for over 20 years. Mrs. Swanwick worked as an elementary school secretary for 14 years at Hoppin and Andrews.
She was preceded in death by her parents, husband William, in 2001, one son, D. William Swanwick, sister, Margaret Fuelling, and brother Dr. Deil "Sunny" Wright.
She leaves to cherish her loving memory, daughter, Kathryn (Gene) Brundige, of Colon, MI.; son, Robert (Carol) Swanwick, of Three Rivers; daughter-in-law, Norma Swanwick, of Three Rivers, Eight grandchildren and nineteen great-grandchildren.
Graveside Services will be held at 1:00 p.m. on Thursday, May 1st, 2014 at the Riverside Cemetery Oakdale Chapel with Lay Pastor, Sandi Miller officiating.
Memorials may be donated to the Ninth Street Methodist Church. Envelopes available at Hohner Funeral Home in care of arrangements. Online condolences may be left at www.hohnerfh.com.