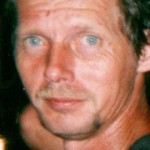 Richard Allen Terry, 50, of Three Rivers, passed away at 8:50 a.m. Tuesday, April 22, 2014 at his home.
He was born on Dec. 2, 1964 in Brushy Prairie, Ind. to the late Delbert and Bonnie (Ringler) Terry.
Richard is survived by four daughters, Alaina Terry of Richmond, Ind., Ashley (Will Smithers) Terry of Three Rivers, Clarissa Terry and Cristi Terry, both of Cadillac; one son, Gyles Terry of Three Rivers; two sisters, Patricia Keenan of Moorehead, Ky. and Cindy Terry-Forker of South Milford, Ind.; one brother, Fred Terry of Coldwater; four grandchildren, Alexavier Terry, Bianca Terry, both of Three Rivers, Gabriel Terry of Constantine and Dustin Sullivan Jr., of Richmond, Ind.
He was preceded in death by his parents; two sisters, Roberta Sue Terry and Judy Louise Terry-Mosier; one brother, Melvin Lee Terry.
A Celebration of Life Service will be held at a later date.
Richard owned Terry's Tree Service in Coldwater. He enjoyed hunting and spending time with his grandchildren. He was a loving father who will be greatly missed.
Elkhart Cremation Services is entrusted with arrangements.
Memorial donations may be given to the family to offset funeral expenses.