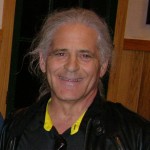 David B. Hunt, age 56, of Kalamazoo, MI passed away as the result of a car accident on Memorial Day, May 26, 2014.
He was born June 24, 1957 in Dowagiac, MI the son of Jack and June (Tribbett) Hunt.
He was a Three Rivers High School graduate. As a 15 year Army Veteran, he served with the 504th Parachute Infantry as a squad leader and later with the 82nd Airborne. He participated in the removal of Noriega in Panama, as well as in Desert Storm. David had an artist's soul and was very passionate about the things he liked to do. He enjoyed traveling, reading and being on the water. He was also an avid Notre Dame football fan.
Surviving is his mother, June Hunt, of Vicksburg, MI; two sisters, Joanne Pantale of Marcellus and Cheryl (Thomas) Hiatt of Mattawan, MI; two nieces, Brandy Hunt of Mattawan and Sara Osheroff of Brookfield, IL; two nephews, Paul Bair of Benton Harbor, MI and Devon Pantale of Marcellus; significant other, Katie Alber of Vicksburg and his best friend, Larry Mikel of Three Rivers, MI. He was preceded in death by his father Jack Hunt.
The family will receive friends from 6 P.M. to 8 P.M. Monday, June 2, 2014 in the Mater-Ralston Funeral Home, Marcellus.
Memorial services will be held at 11 A.M. on Tuesday, June 3, 2014 in the funeral home.
Memorials may be directed to the Wounded Warrior Project www.woundedwarrior.org