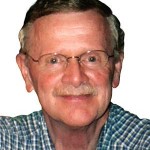 Mr. Dennis Harvey Fisher, 67, of Coldwater, passed away peacefully, on Wednesday, May 14, 2014 at the University of Michigan Hospital. He was born on Nov. 4, 1946 in Goshen, Indiana, the son of the late Glenwood Dale Fisher and Mildred (Schiele) Fronk.
Mr. Fisher served his country in the United States Air Force where he was honorably discharged as a Sergeant. On Sept. 25, 1987 he was united in marriage to Mrs. Debra (Pass) Fisher. He was employed by G.T.E. now Verizon for over 30 years holding many titles and working in Elkhart, Angola and Three Rivers until his retirement in 2003. Mr. Fisher belonged to the Coldwater Elks, the Quincy American Legion and he enjoyed gardening, woodworking, and especially all of his family.
Dennis was preceded in death by his parents and one sister, Marlene Bahnsen.
He leaves to cherish his loving memory, wife Deb (Pass) Fisher of Coldwater; daughter, Victoria Fisher (Joel) Slack of Grand Rapids; sons, Scott (Shannon) Fisher of Elkhart, Indiana, Cory (Tina) Carroll of Jones and Brian (Sarah) Carroll of Hastings; one brother, Monte (Marcia) Fisher of Elkhart, Indiana; two sisters, Donna (Russ) Hanson of Ft. Wayne, Indiana and Marilyn (Roger) Bishop of Goshen, Indiana; brother-in-law, Roger Bahnsen of Elkhart, Indiana; nine grandchildren, Zachary, Jacob, Sebastian, Breann, McKenzie, Ella, Owen, Kerstan and Logan. Several nieces, nephews, and close in-laws.
The family will receive friends at 11 a.m. at the Hohner Funeral Home. Memorial and Military Honor Services will be held at 1 p.m. on Thursday, May 22 at Ft. Custer National Cemetery with Pastor Robert Nystrom officiating.
In lieu of flowers, memorials may be donated to the Bronson Pulmonary Rehab Dept., 300 North Ave., Battle Creek, MI 49017. Envelopes available at the funeral home. Online condolences may be left at www.hohnerfh.com.