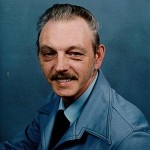 Elmer V. Eaton, 72, of Three Rivers, died unexpectedly on May 2, 2014 at his home. He was born in Sturgis on Feb. 14, 1942 the son of Harl W. and Florence E. (Harris) Eaton and was a lifetime resident of St. Joseph County. He attended Colon Schools and had been employed at Grumman-Olson in Sturgis and Essex Wire in Three Rivers. Elmer enjoyed fishing and hunting. He was also a bowler in several area leagues and winner of several ABC awards. Most recently he was a regular member of the Thursday evening Soup Pot gatherings.
Elmer was preceded in death by his parents; his wife, Brenda; brothers, Harry, Bob, Wayne and Harley; and a sister, Rachel Burt.
Elmer is survived by five children, Steven (Ethel) Eaton of Nunica, Kevin (Annette) Eaton of Manhattan, Illinois, Kathy Lewis of Grand Haven, Patty Mead of Flint and David Meade of Flint; 15 grandchildren; four great-grandchildren; a sister, Sarah Hahn; and several nieces and nephews.
In keeping with his wishes, cremation has been conducted. Memorial services are planned for 2 p.m. Saturday, June 21, at the Light & Life Wesleyan Church, 15765 Hoffman Rd., Three Rivers, MI 49093. Memorials will be directed to the family. Assistance was provided by the Eickhoff Farrand Halverson Chapel of Three Rivers. An online register is available and condolences may be left for the family at www.efhchapel.com.