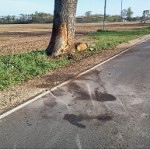 A Three Rivers man was killed Sunday evening in a single-car crash in Park Township.
David Boring, 39, died following the incident at 7:50 p.m. last night on Buckhorn Road, north of Heimbach Road.
Sheriff's deputies said Boring was traveling north on Buckhorn Road when his vehicle left the roadway and struck a tree. Boring was pronounced dead at the scene.
A department media release indicates it is unknown whether speeding or alcohol were involved. Boring was not wearing a seatbelt, according to authorities.