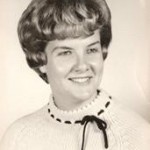 Margot Francis Stoner, age 73, of Schoolcraft, MI passed away on Saturday May 24, 2014 at Bronson Methodist Hospital. Margot was born on October 4, 1940 in Berwyn, IL the daughter of Lewis and Marian(Blue)Williams.
Margot was a longtime resident of Schoolcraft. On January 31, 1970 she was united in marriage to Jack Stoner who survives.
Margot was employed for many years as a medical technician at St. Margaret Hospital in Hammond, IN and also in Kalamazoo. She enjoyed crocheting baby blankets for her grandchildren, reading, and computer games. Margot cherished spending time with her beloved dog and cats.
Margot was preceded in death by her parents and son-in-law, John Parr.
She leaves to cherish her loving memory, husband, Jack Stoner of Schoolcraft, MI; daughters, Kelly Parr-Zecher of Hamilton, OH, Gretta Hall of Texas, and Deb(Tom)Bush of Schoolcraft, MI; sons, Scott Hires of Florida, Jimmy(Tara)Stoner of Middlebury, IN, Charlie Stoner of Portage, MI, Jack Stoner of Schoolcraft, MI , and Alan(Andrea)Stoner of Three Rivers, I; fourteen grandchildren and three great grandchildren also survive.
The family will receive friends from 11:00 a.m. until time of Funeral Services at 1:00 p.m. on Thursday, May 29, 2014 at the Hohner Funeral Home with Rev. Mark Pawlowski
Memorials in memory of Margot may be directed to the St. Joseph County Animal Rescue Fund. Envelopes available at Hohner Funeral Home in care of arrangements.
Online condolences may be left for the family at www.hohnerfh.com.