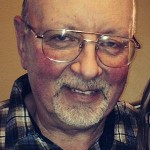 Roger Arnold Connelly, 64, Three Rivers, died Thursday, May 22, at Parkview Regional Medical Center, Fort Wayne, Indiana. He was born Dec. 27, 1949, in Sturgis, to Arnold F. Connelly and Lila C. (Sheets) Connelly. Roger graduated from Lakeland High School in 1968 and then married his high-school sweetheart, Sherry Lynn (Richards) Connelly on Sept. 21 of the same year.
Roger retired at age 50 from Ross Laboratories, Sturgis, where he began working at age 18. Roger enjoyed watching IU basketball, and even after moving away from LaGrange, he continued to attend Lakeland basketball games.
Roger is survived by his wife and their three children: Cynthia (Andrew) Baxter, Indianapolis, Ind.; Wendy (Bryan) Medford, Elkhart, Ind.; and Eric Connelly, Three Rivers. Also surviving are sisters Sandra Yoder, Diane (Fritz) Schlemmer, LaGrange, Ind.; Susan Dempsey, Wolcottville, Ind.; Ann (Tom) Pomeroy, Columbus, Mont.; and Sherry (Bob) Ballard, Howe, Ind.; eight grandchildren: Denise, Brittany, Angela, Lindsey, Arianna, Tristin, Garrett and Grace; and two great-grandchildren, Kaiden and Brooklyn.
He was preceded in death by his parents and brother-in-law Robert Yoder.
Roger's family will miss him dearly but will smile as they think of him fishing once again with his father and cheering on the Lakeland High School basketball teams from a much more comfortable seat.
Services will be at Carney-Frost Funeral Home, 603 S. Detroit St., LaGrange, Ind.: Visitation Monday, May 26, 5-7 p.m., and Tuesday, May 27, noon — 2 p.m. with the service at 2 p.m.