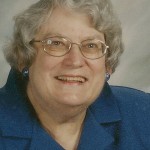 Rosemary (Young) Carter died May 11, 2014.  She was born to John and Irma (Garrett) Young in LaGrange, Indiana on January 14, 1940. Rosemary graduated from Sturgis High School in 1958 and worked at the Sturgis Public Library. On May 28, 1960 she married Richard "Dick" Carter at the Sturgis United Methodist Church. After they were married, she worked as an executive secretary at Miles Laboratories. Shortly thereafter they moved to Vacaville, California where her husband served four years in the U.S. Air Force and she worked for the City of Vacaville. Rosemary assisted with her husband's custom car painting business on South Washington Street. She loved singing and in her younger days performed in talent shows and at weddings. She participated in the United Methodist church choir for years in Sturgis and in Constantine. In the mid '70s, she went to work fulltime as the secretary at Riverside Elementary School. She was employed there for 34 years and retired in 2008. Reading and playing cards were her passion. She loved to play Bridge and Canasta and was a member of several bridge playing groups. In addition to her activities, Rosemary spent many a weekend at the Mottville Race Track and other events operating picture sales for Dick as his photography hobby evolved and grew.
Surviving are her son Randal (Kathy) Carter of Caledonia, MI, and their children Ryan and Katrina; daughter Robyn (Karl) Hagerman of Petersburg, AK, and their children Kyle, Tucker and Tatum Hagerman; sister Linda Jo (Rex) Stover and their children Shawn and Dora. She was preceded in death by her husband, her parents, and her step-mother Phyllis (Martin).
Relatives and friends will be received May 12 from 5-8 pm at the Eley Funeral Home in Constantine. Religious Services will be held at Constantine United Methodist Church on May 13 at 11:00 A.M. with Reverend Scott Manning officiating. Interment is in the Constantine Township Cemetery. Memorial contributions may be made to Constantine Township Public Library. Online messages may be left for the family at www.eleyfuneralhomes.com.