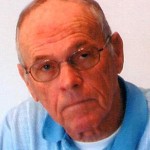 Archie Allen "Bud" Gragg, age 83, of Three Rivers, passed away on Saturday morning, May 31, 2014 at his home surrounded by his loving family.
Archie was born on August 10, 1930 in Kalamazoo, the son of the late Archie H. and Doris (Olmstead) Gragg. Archie wore many hats during his life. He was a veteran of the National Guard; worked at J.A. Richards Company; owned and operated a gas station, a fuel oil delivery business, a plumbing and heating service; was a farmer; Kalamazoo County Sherriff's Deputy and the Vicksburg Police Chief until his retirement in 1991. He was a member of the Portage-Schoolcraft Eagles Aerie 3531 for 21 years.
Archie loved fishing, going to Las Vegas, horse and dog races and spending winters in Florida with his wife. On August 6, 2004, he was married to his beloved, Rose (Morris) Gragg, who survives. Also surviving are his two sons, Eric Gragg and Archie Howard Gragg; daughter, Alana (Alan) Cowan; step-son, Michael Salisbury; five grandchildren, Blair, Jonathan, Alan, Andrea, and Richard; two great-grandchildren, Molly and Benjamin; siblings, Lila Munson, Howard (Mary Lou) Gragg, Sharon Drake, Pat (Lorraine) Gragg, Patsy Fisher and Helen Luegge; former spouse, Alicia Lethcoe, numerous nieces, nephews, grandnieces, grandnephews, and friends; and not to forget Archie's two shining stars, his puppies, Ginger and Peppermint. Preceding him in death were his wife of 38 years, June Gragg and two sisters, Alice Terry and Yolanda Puterio.
A funeral service for Archie will be held at 11 a.m. on Thursday, June 5, at Langeland Family Funeral Homes, Portage Chapel, 411 E. Centre Avenue, Portage. Interment will follow in Schoolcraft Cemetery. Friends may visit with the family from 2-4 p.m. and 6-8 p.m. on Wednesday, June 4, at the funeral home. Memorial contributions may be directed to Animal Rescue Fund or Southern Care Hospice. Please visit Archie's personalized webpage for directions, his online guestbook or to leave a condolence to his family at www.langelands.com.