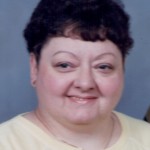 Diane Lynn Henkel, 64, of Centreville, passed away Friday, June 20th, at Fairview Nursing & Rehabilitation Centre. Diane was born in Three Rivers, MI on October 7, 1949, a daughter of Lathorlyn (Hagelgans) and Neubert Balk.
On April 21, 1968 she married Robert Henkel in Centreville. He preceded her in death on December 14, 1995. She graduated from Centreville High School in 1967. Diane worked as a clerk at St. Joseph County Dog Pound for 15 years. She was a member of St. Paul's Lutheran Church in Centreville and also of the Centreville Card Club. Diane especially enjoyed camping up north and taking trips with her family.
Diane is survived by her mother Lathorlyn Balk of Centreville; sister Brenda (Patrick) Priest, Centreville; two brothers, Brad (Rose) Balk of Centreville, and William (Christine) Balk of Centreville, several nieces and nephews; great nieces and nephews; and many loving in laws. She was preceded in death by her father and husband.
Religious Services will take place at St. Paul's Lutheran Church in Centreville on Tuesday June 24th at 11 am with Pastor David Grimm officiating. Interment will be at Prairie River Cemetery Centreville, MI. Memorial contributions may be made to St. Paul's Lutheran Church. Arrangements were entrusted to Eley Funeral Home in Centreville. Online messages may be left for the family at www.eleyfuneralhomes.com.