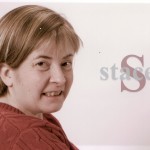 Stacey Rose Rohrer, age 32, of Vicksburg, MI., passed away on June 4, 2014 at Bronson Methodist Hospital. She was born on January 11, 1982 in Three Rivers, MI., the daughter of Richard and Melody (Bertch) Rohrer.
Stacey was a vibrant soul who made everyone around her smile. She loved bowling and working at the Wendy's Restaurant in Schoolcraft for the last nine years where she made lasting friendships. Her true love was spending cherished time with her friends and family.. Stacey and her parents attended the First Presbyterian Church of Schoolcraft.
She leaves to cherish her loving memory, her parents, Richard "Rick" and Melody (Bertch) Rohrer, of Vicksburg, MI.; two sisters, Brooke (John) Chapman and Jill (Nick) Schulte, both of Illinois; nieces, Autumn and Rohri Chapman, Hunter and "Baby" Schulte. Several aunts, uncles, and cousins.
The family will receive friends on Friday, June 6, 2014 from 5-7 p.m. at the Hohner Funeral Home.
Funeral Services will be held on Saturday, June 7, 2014, 11:00a.m. at Hohner Funeral Home.
Interment will take place at Riverside Cemetery, Three Rivers, MI.
Memorial donations in memory of Stacey may be directed to the Ronald McDonald House. Envelopes available at Hohner Funeral Home in care of arrangements.
Online condolences may be left for the family at www.hohnerfh.com.