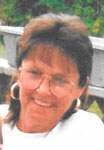 Deborah Ann Hansman, of Colon passed away Monday, July 7, 2014, at her home.
She was born Aug. 11, 1948, in Huntington, Ind., a daughter of Kathleen Daily. On Jan. 22, 1985, she married Thomas J. Hansman Sr. in Coldwater, and lived most of her life in Branch County.
She attended Coldwater schools and retired from Colmers of Colon. She spent 13 years in Houston before moving back to Branch County in 1980.
Survivors include three daughters, Coni Nickles (Jason Decker) of Colon, Billi (Frank) Farrand of Colon and Josie Swift of Bronson; a stepson, Thomas Hansman Jr. of Colon; a stepdaughter, Debbie Hansman of Sturgis; three sisters-in-law, Judy Cope of Florida, Cindy Curtis of Coldwater and Janet Parker of Indiana; 10 grandchildren; and eight great-grandchildren.
Due to Deb's wishes, cremation will take place. A memorial service will be held at 2 p.m. Saturday, July 26, 2014, at her daughter Billi Farrand's home at 444 E. State Street, Colon.
Donations may be made directly to the family.