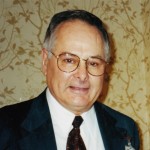 Dwight Milton Donmyer, age 82, of Three Rivers, passed away late Tuesday, July 8th, 2014 at the Borgess Medical Center following a lengthy illness. He was born on May 20, 1932 in Three Rivers the son of the late Roy F. and Donna (Everhart) Donmyer.
Mr. Donmyer attended Three Rivers Schools and later graduated from Glen Oaks Community College. He served his country in the National Guard for over 31 years having served active duty several times. He was employed for over thirty years for General Telephone as a P.B.X. Installation Technician from where he eventually retired .
Dwight was a former member of the American Legion Hice-Shutes Post #170. He was an avid water skier, enjoyed camping and spending time in Ludington, square dancing, and in his later years enjoyed surfing the web.
Mr. Donmyer leaves to cherish his loving memory, his wife, MaryJean Donmyer, of Three Rivers; one daughter, Deb (Leonard) Shippy, of Three Rivers; one son, Brad (Gwen) Donmyer, of Sturgis, MI.; grandchildren, Stacy, Ryan (Jodi), Zack (Kim), Sara (Shaun), Eric (Jen), Sarah (Jason), Chelsea(Travis), Hannah, Meredith, Mariah, and Adam. Several great grandchildren and one brother, Dwayne "Charles" Donmyer.
The family will receive friends from 11:00 a.m. until the time of services at 12:00 noon on Monday, July 14, 2014 at the Hohner Funeral Home, with Armstrong International Chaplain Dan Lane officiating. Military Honors under the auspices of the American Legion Hice-Shutes Post #170 to follow services.
Memorials may be donated to the Wounded Warriors Project. Envelopes available at Hohner Funeral Home in care of arrangements. Online condolences may be left at www.hohnerfh.com