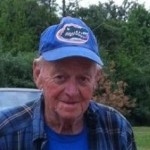 Harry L. Gray, age 81, of Marcellus, MI passed away Thursday afternoon, July 10, 2014.
He was born February 28, 1933 in Decatur, MI the son of Arthur Lyle and Alice June (Tinkey) Gray. On March 1, 1996 he married Kathlene M. Bennett who survives.
He was a Retired Army Veteran who served during the Korean War and Vietnam War. Harry was a life member of the Marcellus V.F.W. Post 4054, the Masonic Lodge and the American Legion. He enjoyed fishing, watching birds and loved the warm weather and especially enjoyed spending time with his children and grandchildren.
Surviving besides his wife Kathlene are two daughters, Barbara J. Larsh and Cynthia (Gerry) Knutson; four sons, Michael (Penny) Wilbanks, Mark S. Wilbanks, Douglas M. Johnston and Kenneth B. Johnston; one sister, Joyce E. Klein and two brothers, Warren J. Gray and Lowell D. Gray; 18 grandchildren and 6 great-grandchildren.
A celebration of Harry's life will be held at a later date. Memorials may be directed to the Marcellus V.F.W. Post 4054. Online condolences may be left at http://www.materralstonfuneralhome.com/
Arrangements were handled by the Mater-Ralston Funeral Home, Marcellus