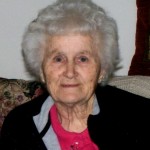 Mylenda Kaylor, age 90, of Three Rivers, passed away on Tuesday, July 8th, 2014 at the Bowman House where she resided following a lengthy illness. She was born in Van Wert County, Ohio on April 4, 1924 the daughter of the late Charles Rose and Mary Hannah (Williams) Price.
Mrs. Kaylor has been a long time resident of Three Rivers moving from Van Wert with her husband LeRoy, whom she married on Sept. 28, 1946. She was employed by Continental Can for twenty-five years before retiring. She and her family enjoyed spending summers at Houghton Lake. She enjoyed being a wonderful homemaker and caring for her family after her retirement.
Mylenda was preceded in death by her husband, LeRoy Kaylor, two sisters, Louise Boroff and Eleanor Johnson, one brother, Warren C. Price, and an infant daughter Barbara Jo.
She leaves to cherish her loving memory, one daughter, Phyllis (Randall) Hall, two sons, David (Carolyn) and Joseph L. Kaylor, all of Three Rivers; two grandchildren, Kelli (Christopher) Dechnik and Adam Kaylor; one great-granddaughter, Karli Dechnik; two sisters, Mary Kathryn Hayman and Doloris Moore. Several nieces and nephews.
The family will receive friends from 11:00 a.m. until time of services at 1:00 p.m. on Friday, July 11, 2014 at the Hohner Funeral Home, with Pastor Bob Anderson officiating.
Interment will be held at 1:00 p.m. on Saturday, July 12, 2014 at ElmGrove Cemetery, in St. Mary's, OH.
Memorial donations may be given to Southern Care Hospice of Portage. Envelopes available at Hohner Funeral Home in care of arrangements. Online condolences may be left at www.hohnerfh.com.