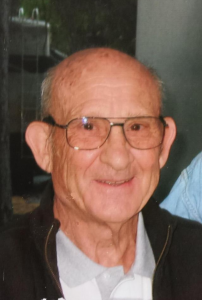 Jerry Eugene Sangalli, age 81, of Three Rivers, MI., passed away on Sunday, August 24, 2014 at the Bronson Methodist Hospital surrounded by his loving family following a brief illness. Jerry was born on January 12, 1933 in Three Rivers, MI., the son of the late Battista and Erminia (Catto) Sangalli.
Jerry graduated from Three Rivers High School and later received his bachelor's degree from Western Michigan University. On November 28, 1953 Jerry was united in marriage to Dorothy Hice. Together they owned and operated Wolverine Motor Supply for many years. Jerry also taught and was Principal of the Immaculate Conception Catholic School for several years. He was an active and faithful member of I.C. Church. Jerry cherished spending time with his family, especially attending his grandchildren's sporting, school events, and horse shows. He was a Past Member of the Three Rivers Elks B.P.O.E. #1248 where he served as an officer.
He was preceded in death by his parents, sisters, Louise Clipfell, Virginia Pitts, Mary DalPonte; brother, William Sangalli, and sister-in-law, Cecil Dilley.
He leaves to cherish his loving memory, wife of sixty-years, Dorothy (Hice) Sangalli, children, Joe (Dave Hulst) Sangalli, Jerome (J.W. Salveson) Sangalli, Jackie (Jimmy) Drake, Jill (Neil) Sangalli -Bissett, John (Jon Leestman) Sangalli; grandchildren, Samantha (Brad Evans) Drake, Elizabeth and Brady Bissett. Many nieces and nephews.
The family will receive friends from 4:00 p.m. until 7:00 p.m. at which time a Rosary Service will be held with Deacon Bart Connelly presiding today, August 26, 2014 at the Hohner Funeral Home.
Mass of Christian Memorial will be held 1:00 p.m. on Wednesday, August 27, 2014 at the Immaculate Conception Catholic Church, with Fr. Mathew Manilel and Fr. Donald Potts officiating.
Memorials may be donated to the Three Rivers Sports Complex c/o Three Rivers Foundation. Envelopes available at the funeral home. Online condolences may be left at www.hohnerfh.com