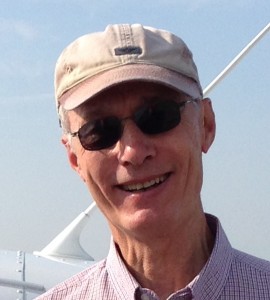 John C. Adams, age 67, of Fredericksburg, Virginia, formerly of Marcellus, MI passed away Friday, August 8, 2014 as a result of injuries sustained in a bicycling accident in Kalamazoo, Michigan.
He was born December 8, 1946 Dowagiac, MI, the son of Uriah M. and Clarice A. (Nemmers) Adams. On September 4, 1982 he married Patricia Keddell who survives.
John grew up in Southwestern Michigan and received his engineering degree from the University of Dayton in Ohio. He was a mechanical engineer who had previously worked in the Warheads Branch at the Naval Surface Warfare Center in Dahlgren, VA, and with other government contractors, until his retirement from Booz Allen Hamilton earlier this year. He was a expert handyman and accomplished woodworker in his spare time. John enjoyed hiking, downhill skiing and bicycling. He was also recognized by his many friends and colleagues as an expert on wines. John will be sorely missed by all who knew him.
Surviving besides his wife Pat, are two daughters, Christina and her husband Matthew Bess of Frederick, MD, Jennifer and her husband Navy Lieutenant Matthew Bornemeier and their son James of Alexandria, VA; brothers, George and Mary Chris of South Bend, IN and Jim and Linda of Sturgeon Bay, WI and sisters, Margaret and Robert Wetherell of Chase, MI and Mary and Michael West of Rockford, MI; many nieces, nephews, cousins and friends, especially his dear friend Chuck Ellington, along with Uncle Francis Morse of Kalamazoo, Bruce and Donna Morse of Mt. Dora, FL and Rollie and Margy Morse of Kalamazoo.
The family will receive friends from Noon to 1 P.M. Sunday, August 10, 2014 in the Mater-Ralston Funeral Home, Marcellus. Memorial services will be held at 1 P.M. in the funeral home. Memorial donations may be directed to the Marcellus Ambulance Service, 177 E. Main Street, Marcellus, MI 49067.
Online condolences may be left at http://www.materralstonfuneralhome.com/ or visit our Facebook page.