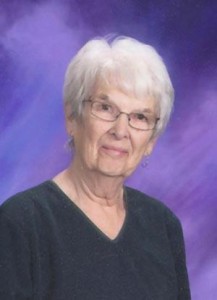 Betty Meringa, 84, went home to be with her Lord Friday, Aug. 29, 2014. She died peacefully at her home with family by her side. She was born in Parkville, the daughter of Roy and Marie Kennedy. While working at the local drug store she met and married the love of her life, Marinus "Joe" Meringa, on Jan. 15, 1949. They were married for 60 years until his death in 2009.
Together they raised four children: Deborah Meringa, Nancy (Steven) Keene, Robert (Tabitha) Meringa and Mikel (Lisa) Meringa; 12 grandchildren and 24 great-grandchildren.
They owned and operated the Rainbow Inn and Papa Joe's Ice Cream Parlor for many years, and the last several years she enjoyed working with small children as a teachers' aid.
She enjoyed spending time with her family and friends, but next to that she was the Detroit Tigers' #1 fan and never missed a game.


She was preceded in death by her parents, husband Joe, two brothers, a sister and a great-grandson.

The memorial service will be held Saturday, Sept. 6 at 1 p.m. at New Hope Assembly of God, 56652 Buckhorn Rd., Three Rivers.
Contributions in memory of Betty can be made to Hospice of SW Michigan.
Friends may share a memory online atwww.avinkcremation.com.