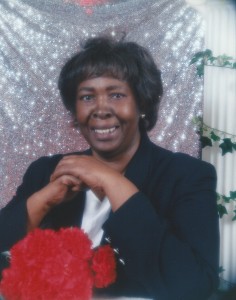 Mrs. Mattie Mary Street, age 74, of Three Rivers, went to be with her Lord on Saturday, Sept. 6th, 2014 at the St. Lawrence Hospice House, Lansing, MI., surrounded by her loving family. She was born on Oct. 11, 1939 in Lambert, MS.; the daughter of the late Jimmy and Elizabelle (Johnson) Norrington.
Mrs. Street has been a long time resident of Three Rivers and formerly of Dowagiac, MI. She was a life member of the All Nations Temple Church of God in Christ where she was very active. She was an avid volunteer for the Grandparents Program, Foster Parenting, Barrow's School Grandparent, and the Commission on Aging (C.O.A.). Mattie enjoyed gardening, reading, cooking, and most importantly spending time with her family and friends, whom she would always help when in need.
She was preceded in death by her parents, husband, Floyd Street; one son, Abobalasker Smith Jr, and several siblings.
Mrs. Street leaves to cherish her loving memory, three daughters, Shirley (Russell) Gibbs, Serita Street, and Sharon Abdullah; three sons, Dr. Floyd (Vicki) Street Jr., Sherman M. Street and Gregory (Chanda) Street. One brother Odell Norrington; and a multitude of grandchildren and great-grandchildren, as well as many close friends.
The family will receive friends from 1:00 p.m. until the time of services at 2:00 p.m. on Saturday, Sept. 13th, 2014 at the Bethel Baptist Church, Three Rivers, with Pastor Princel Channey officiating.
Interment will be held in Moorepark Cemetery.
Online condolences may be left at www.hohnerfh.com