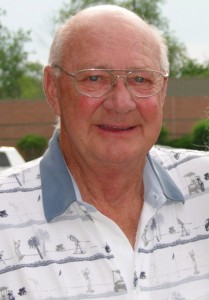 Wayne E. Green of Cadillac passed away Sunday morning, September 7, 2014 at his home. He was 75. He was born July 1, 1939 in Vandalia, Michigan to Paul D. and Gladys E. (Burkett) Green. 
Wayne attended Cassopolis High School and worked as an auto salesman for many years before starting his own contractor business, Waja Builders. He attended Temple Hill Baptist Church and was a member of the Cadillac Lions Club and the Cadillac Elks Lodge #680. Mr. Green loved sports, watching his grandchildren play sports, playing golf and cards. He had a great sense of humor and loved to tell jokes. Mr. Green knew how to make everyone feel special and lived out his life motto: live, love, laugh.
On February 6, 1971 in Niles, Michigan he married the former Sonja L. Benson and she survives him along with children: Scott (Linda) Green of Cassopolis, Scott (Renee) Warne of Three Rivers, Catherine (Dave) Doman of Brighton, Shelley Feddema of Spring Lake, Gary (Dianne) Green of Constantine, Brian (Anita) Green of Three Rivers and Shawn (Toni) Warne of Wyoming, Michigan; 22 grandchildren; 12 great grandchildren and 2 more due; siblings: Richard (Norma) Green of Goshen, Indiana, Susan (Al) Wittenberg of Three Rivers, Larry (Jayne) Green of Las Vegas, Nevada, Terry (Cheryl) Green of Silver Lake, Indiana, Danny Green of Temperance, Michigan and David Green of Kalamazoo; many nieces and nephews and his best friend since high school, Roger (Betty) Anderson of Cassopolis.
He was preceded in death by his parents; a son, Spencer Warne in 2008; a sister, Joan Schwartz and in laws, Raymond and Lucille Benson. 
Funeral services were held at 12:00 noon, Wednesday, September 10, 2014 at Temple Hill Baptist Church in Cadillac with Reverend Jack Miller and Pastor Doug Tindall officiating.  Burial was at Maple Hill Cemetery in Cadillac. Memorial contributions may be made to the family or Heartland Hospice. An online guestbook is available at www.petersonfh.com