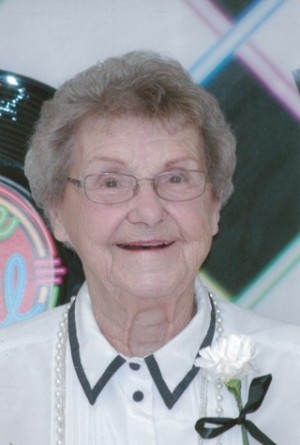 Alberta Marie Kastead was born on November 7, 1917, in Mendon, MI., the daughter of Ella Tillotson. Alberta died peacefully in her sleep on November 4, 2014 with her daughters present at the Laurels of Sandy Creek where she was a resident for eight years.
She attended schools in Indiana and graduated from Mongo High School in 1936. On July 12, 1941 she married Edward Willard Kastead who preceded her in death in 1975. Alberta raised three daughters, Louella (William) Johnston, who both preceded her in death in 1979, and surviving daughters Judith (William) Todd and Kathleen (Carl) Slocum. She leaves five grandchildren, Darlene Harrison, Bruce (Jodi) Harrison, Barbara Harrison, Amy (Jeff) Mantia, and Andy (Angie) Johnston along with six great-grandchildren, Ashley Harrison Nogle, Holly Harrison, Steven Mantia, William Mantia, Jeremy Johnston, and Josh Johnston. Also surviving are three great great-grandchildren, Codi Bailey, Parker Gleasing, and Mia Harrison. She also leaves two very close and dear friends, Janice Burdick and Hilary Thompson.
Per her wishes cremation has taken place and a private service for immediate family will be held in the future where she will be buried next to her husband at Riverside Cemetery, Three Rivers. A celebration of life is being planned in the spring, which is Alberta's favorite season.
One of Alberta's favorite organizations as she loved animals of all kind is the Kalamazoo Humane Society where donations can be made in her name. Donations may also be mailed to Hohner Funeral Home P.O. Box 1004 Arnold St., Three Rivers in care of Alberta's arrangements.
Online condolences may be left at www,hohnerfh.com.