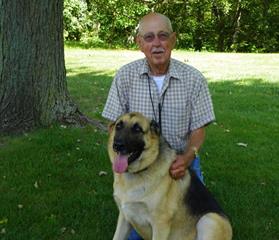 Dale Burton Stutsman, age 82, of Three Rivers passed away peacefully on Sunday, December 7, 2014 at his home surrounded by his loving family. He was born on August 17, 1932 the son of Fay Douglas and Una Mae(Nothdrup)Stutsman.
Dale was a truck driver for many years. He was a member of the Three Rivers Moose Lodge # 474, Three Rivers Eagles # 2303 and the American Legion Post # 170. He enjoyed hunting, fishing, and dancing. Dale also enjoyed racing as a stock car driver at Butler, Mottville, and Prairie River race tracks.
Dale was preceded in death by his parents, son, Michael Stutsman , sister, Delores Monroe, grandson, Ryan Reist, and niece, Vicki Monroe.
He leaves to cherish his loving memory wife for over thirty years, Ann(Tesarik) Stutsman of Three Rivers; children, Dale S. Stutsman, of Texas, Gloria(Walter) Lowe of Goshen, Rose(Jim) Maschke of Manchester, Carol Kniffen , and Sherri Stutsman both of Sturgis; stepchildren, Phyllis(Mike) Salamone of Kalamazoo, Tracy Bainbridge of Three Rivers, and Jeff(Deb) Bainbridge of Marcellus; many grandchildren and great grandchildren, along with many nieces, nephews, and friends.
The Stutsman family would like to extend their heartfelt appreciation for the wonderful care Dale received from his friends, family and caregivers.
The family will receive friends from 2:00 – 4:00 p.m. and 6:00 – 8:00 p.m. on Friday, December 12, 2014 at Hohner Funeral Home.
Funeral services will be held at 11:00 a.m. on Saturday, December 13, 2014 at Hohner Funeral Home with Pastor Bob Anderson officiating.
Interment will be held at Moorepark Cemetery.
Memorial donations in memory of Dale may be directed to the Three Rivers Eagles # 2303 General Fund. Envelopes available at Hohner Funeral Home in care of arrangements,
Online condolences may be left for the family at www.hohnerfh.com.