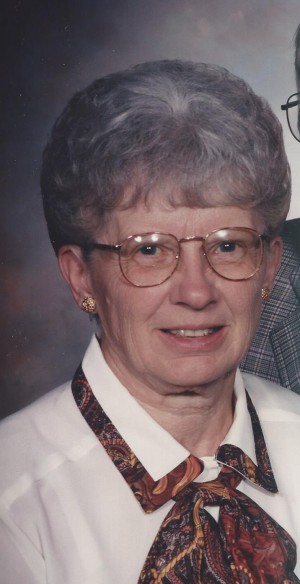 Marlene Faye Brueck, age 81, of Three Rivers, went to be with the Lord and Husband, December 26, 2014 at her home since 1952. She was born in Sturgis, MI on February 2, 1933 one of Four children born to Raymond Liby and Rosa (Meyers) Liby. She was married to Paul Edward Brueck on Sep. 8, 1951 in the Three Rivers Bible Church. She work at Armstrong some years then most of her life was a house wife.
Marlene, was in 4-H as a child, served on the church boards, and work with children of both Three Rivers Bible Church and Bethany Chapel.
Marlene is survived; 2 sons, Steven (Sue Stapleton) Brueck of Gilbert, SC and Stan (Dorothy Fitch) Brueck of Three Rivers; 6 grandchildren, Caleb (Melody) Brueck, Richard (Kate) Brueck, David (Pam) Brueck, Daniel Brueck, Anita Brueck (Tom), and Tonya (Robert) Sills; 10 great-grandchildren, Bekah, Josiah, Isaac, Samuel, Judah, Maria. Elias. Lily, Emma, and Kiera Brueck; several nieces, nephews, and cousins. She was preceded in death by her parents; One sister, Marcella (Liby) Steininger; Two brothers: Luster Liby, and Roscoe Liby, and a daughter in law, Libby (Baxter) Brueck.
The family will receive friends on Friday, January 2, 2015 from 11am-12 pm with Service following, at the Hohner Funeral Home in Three Rivers with Pastor Scott Manning and Pastor Richard Brueck. Funeral Interment will follow at Riverside Cemetery, Three Rivers, MI. Memorials donations will be to the Three Rivers Ambulance Special Technolgy upgrade. Envelopes available at Hohner Funeral Home in care of arrangements. Online condolences may be left at www.hohnerfh.com.