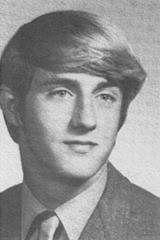 Peter Jay Wolgamood, age 62, of Three Rivers passed away suddenly on Sunday, November 30, 2014 at his home. He was born in Three Rivers on October 20, 1952 the son of John Robert and Dorothy Ann(Smith) Wolgamood.
Pete enjoyed snow sports and water skiing during his youth. In high school he excelled on the golf and basketball team. Pete graduated Three Rivers High School in 1971 and attended Alma College. He enjoyed coaching for Jr. Pro Basketball as well. Pete worked construction jobs and was later employed at Ruud Industries in Burr Oak. He was an avid lifetime CB/Ham radio enthusiast and a lover of all animals. Pete was a kind hearted man and will greatly be missed by his family and friends.
He was preceded in death by his parents, brother, James S. Wolgamood, and grandmother, Ruth Smith.
Pete is survived by his brothers, John H. Wolgamood of Lawton, MI and William M. Wolgamood of Three Rivers.
Memorial donations in honor of Pete's love for animals may be directed to St. Joseph County Animal Rescue Fund. Envelopes available at Hohner Funeral Home in care of arrangements.
Cremation has been conducted and a visitation to celebrate Pete's life will be held from 3:00 p.m. – 5:00 p.m. on Saturday, December 6, 2014 at Hohner Funeral Home.