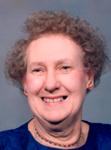 Rita (Lawrence) Carls, 84, of Centreville, daughter of William Wolcott and Blanche Evelyn (Deisch) Lawrence, born July 22, 1930 in Florence Township, Three Rivers, passed away Monday, December 8, 2014 at Fairview Nursing Centre in Centreville. On December 5, 1953 married Herbert William Carls of Centreville. Herb preceded her in death on July 13, 1976.
Rita was a descendant of two of the earliest pioneer families of Florence Township; the Lawrence's and Calhoun's. The Lawrence family was of English descent and the Calhoun family of Scottish descent. Both arrived in America before the American Revolution and helped to fight for the freedom of the United States. Rita's great grandfather Wolcott H. Lawrence was the first white child born in Florence Township in 1830.
Rita attended Roys Rural Schools, as did her parents and grandparents. She graduated from Three Rivers High School in 1947. Rita lived on her husband's Herb Carls fourth generation sesquicentennial family farm since marriage except for a year in Colorado Springs when Herb was stationed there while in the army. Rita spent the majority of her life as a Partner and the Bookkeeper for the family Carls Farms and previously was employed at First National Bank of Three Rivers from 1946-1958 prior to raising her family.
Surviving are Rita's family, son Bruce (Sandy) Carls, grandchildren Marc (Karine) Carls, Heidi (Roger) Bacon, great grandchildren Kasie Hodges-Bacon, Isaiah, Bryce, Elijah and Kaden Bacon, son Tim Carls, son Bill (Deb) Carls, granddaughters Andrea Carls (Chris Wert) and Chelsea Carls (Kody Hard), son Rod Carls (Rita Lowery), granddaughter Summer Carls and daughter Betsy Carls (Joe Straughn).
Rita was a member of: Amos Sturgis Chapter of Daughters of the American Revolution where she held positions of Regent, Vice Regent & Treasurer; Chair of Annual High School Senior Good Citizenship Award for many years; Florence Woman's Club; Centreville United Methodist Church – Join Us Class; Treasurer, Boy Scout Troop 407 – Committee Treasurer April 1976 – 2010; Three Rivers Class of 1947 – Treasurer; Future Farmers of America Advisory Council for 14 years; Life member of Future Farmers of America Alumni Association; Life member of National Farmers Union; Past member of Michigan & St. Joseph County Farm Bureau; Past member of St. Joseph County Saddle Clubs; Past Assistant Leader Trailblazers 4-H Saddle Club; Past Homemaker Committee of St. Joseph County Grange Fair – 1990 St. Joe County Fair Homemaker Queen; 1st Runner Up 1991 Michigan Homemaker Queen Michigan State Fair.
Visitation will be Friday from 2-4 and 6-8 PM at Eley Funeral Home in Centreville, and also Saturday at the Centreville United Methodist Church from 1-2 PM, where funeral services will follow at 2:00 PM. Rita will be laid to rest at Prairie River Cemetery in Centreville, and a lunch will be served at the church following interment. Memorial contributions are requested to Centreville United Methodist Church; Centreville Boy Scout Troop 407; Centreville Future Farmers of America (FFA); or Amos Sturgis Chapter Daughters of the American Revolution. Condolence messages may be left for the family at www.eleyfuneralhomes.com.