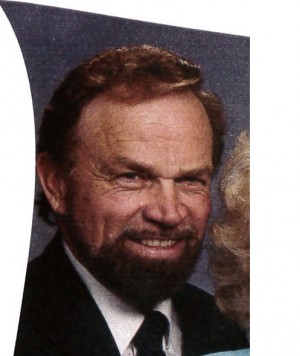 Jack Fryling, age 75, of Vicksburg died peacefully at home on Tuesday Jan. 6, 2015. He was born in Schoolcraft, MI on Sep. 8, 1939 the son of Adrian and Bertha (Visscher) Fryling and was a lifetime resident of the area. He played football at Mendon High School and graduated from there in 1957. He was married to Sharon Lee Batten on June 28, 1958 at the West Mendon United Methodist Church. At the age of 19 Jack established J. Fryling Construction installing concrete throughout southwest Michigan. He was a pilot, and enjoyed taking family and friends on numerous trips. He was a former Schoolcraft Township trustee. Jack loved music and performed, along with his family at area festivals and church cantatas . He was the former choir director and song leader at the West Mendon United Methodist Church and had served on the Pastor-Parish Committee. He entertained at the Vicksburg Summer Festival and the annual Visksburg Antique Car Show. Jack participated in the Vicksburg Rotary Showboat for 50 years, and sang in 56 of the previous 58 performances of the Mendon Kiwanis Showboat.
Jack is survived by 4 children, Jacki (Kirby) Stevens of Mendon, Cary (Ginger) Fryling of Vicksburg, Cindy (Mark) Books of Three Rivers, and Cory Fryling of Ontario, CA; 8 grandchildren, Chelsea (Jason) Booth, Kelly (Matt) Erickson, Colton Carr, Cheyenne Fryling, Cody Fryling, Shelby (Michael) Kintz, Bryann Books, and Patricia Stevens. The family rejoices in the arrival of a first great-grandchild within hours of Jack's passing. Also surviving are 4 sisters, Geanne Glass, Barb Adams, Dorothy Quist, and Patricia (Kimble) Bigelow; and by several nieces and nephews. He was preceded in death by his parents; his wife, Sharon; 3 sisters, Elaine Fryling, Dona Longstreet, and Judith Roggelien; and by his brother, Dan Fryling.
The family will receive friends from 6 to 8 p.m. Saturday at the Eickhoff Funeral Home in Mendon, and also on Sunday from 2 to 4 p.m. at the Vicksburg Performing Arts Center. Funeral services begin at 4 p.m. Sunday Jan. 11, 2015 at the Performing Arts Center with his nephew, Steve Fryling officiating. A private interment will take place later in Vicksburg Cemetery.
It is suggested that memorials be directed to either the Vicksburg Performing Arts Center, 501 E. Highway, Vicksburg, MI 49097, or to the West Mendon United Methodist Church, 22994 Portage Lake Rd., Mendon, MI 49072. Condolences may be expressed to the family online at www.eickhofffuneralhome.com