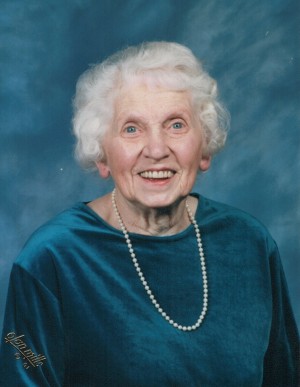 Florence Elvera Nilsson, age 97, of Lake Templene, passed away Thursday, February 5th, 2015 at Thurston Woods Village, Sturgis.   Florence was born in Bridgeport, CT on February 28, 1917, a daughter of Charles A. and Elin C. (Wallin) Berglund.  On May 27, 1939 Florence married John Erik Nilsson in Orange, NJ. He preceded her in death February 2, 1991.  She attended school in Orange, NJ, then later enrolled and completed Beautician school.  Florence worked as a beautician and also did photography at Americana Portraits in West Orange, NJ.  She was a member of the Centreville Baptist Church, where her son-in-law is the pastor, and was a member of the West Essex Baptist Church (The Crossing Church) in Livingston, NJ. Known for her warm hospitality, quick but kind wit, and friendliness to all, Florence enjoyed gardening and music, blessing many with her voice in singing and harmonizing. Above all, she loved and trusted Jesus her Lord and Savior.
Florence is  survived by daughters Karen (David) Peterson of Centreville, Evelyn (James) Stamoolis of Kildeer, IL, and  Christine (Campbell) Nisbet of New Hamburg, Ontario, Canada; son Ronald (Roxanne) Nilsson of Gloucester, MA; grandchildren  John, Joel, and Joshua Stamoolis; Jessica, Robb, Rebecca and David Nisbet; Erik, Jill, and Jeff Peterson; Bjorn, Sten, and Inga Nilsson; great-grandchildren Malachi, Kaleb, Theo, Asher, Max, Ronan, Elsa, Macey, and Clay. She was preceded in death by her parents, husband, brother Charles Edward Berglund, and sister Esther Bjorkman.
Cremation has taken place.  Memorial services will be held on Saturday, May 30, 2015 at 11:00am at the Centreville Baptist Church with Pastor David Peterson officiating. Interment of ashes will be at Prairie River Cemetery, Centreville.  Memorial contributions may be made to the Centreville Baptist Church.  Arrangements were entrusted to Eley Funeral Homes, Centreville.  Online messages may be left for the family at www.eleyfuneralhomes.com.