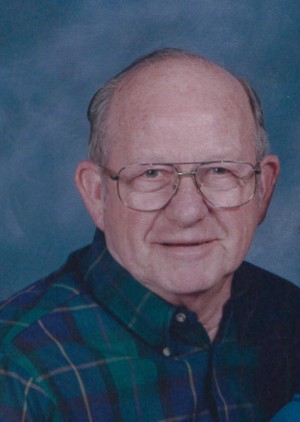 Kenneth Leroy Jasper, age 82, of Three Rivers, passed away on Saturday, Feb. 21, 2015 at the Borgess Medical Center following a brief illness. He was born on Sept. 6, 1932 in Kinmundy, IL., the son of the late Chris and Blanche (Cornell) Jasper.
Ken grew up and attended schools in Kinmundy , graduating in 1951. He worked as a meat cutter until moving to the Three Rivers area in 1966 where he began work with General Telephone as a janitor, later working up to storekeeper. By the time he retired in 1994 it had become Verizon. He married Esther Jones in 1951 and they had a son Ken Jr. and a daughter Tina. They later divorced. On Sept. 6, 1975 he was united in marriage to Karen (Lawrence) Jasper who survives.
Ken was a faithful member of the Corey Church of the Nazarene. He was well known as a "fix-it" guy, who was constantly tinkering and fixing things all around him. His father owned a shoe repair shop but also did other repair work during Ken's childhood where Ken spent many hours watching and learning from him how to fix things. He learned early to be frugal and did not like to waste anything. His first love was family, but Ken also enjoyed traveling with his wife, camping in northern Michigan, always hunting those illusive mushrooms with several friends of the same passion. Ken never met a stranger. He just genuinely liked people and could meet a person and know their life history in the first half hour of chatting with them. He will be missed by all who knew him.
Ken was a hard worker and was never without a job. After moving to Michigan he worked at Pryor Heating, and as a meat cutter at various places including Buy Low Market, and Broadway Market.
In his youth he loved roller skating and anything dealing with wheels and engines. He liked car races, and made a go-cart for his son and a track in their back yard for him to run it on. Later in Michigan he loved motorcycle riding or four wheeling up in northern Michigan as well as going to Silver Lake to ride the dunes. He taught several of his grandsons how to ride motorcycles. Later in life he became more interested in antique garden tractors and had started working on one to ride and show at the fair and possibly other shows. He liked nothing better than to spend time with his family and he was very proud of them. He could be depended upon to always help anyone who asked, especially neighbors and folks in church. He enjoyed square dancing and playing cards with friends. He loved children and drove church bus for years taking children to and from church and VBS. They also loved him. For many years he has done much maintenance work for the church including many hours mowing the acres of grass and maintaining the softball diamond. He helped to finish the Family Life Center at Corey and had previously helped build the Assembly of God Church on Buckhorn Road when they had attended there. He was a bit of an inventor, having out of necessity invented a corn cob holder which attached to a drill to make cutting corn off the cob a much quicker and easier job. He was very proud of that.
Mr. Jasper was preceded in death by his parents, one daughter Tina Jasper, one brother, Charles Jasper, and one sister Shirley Smith.
He leaves to cherish his loving memory, wife of 39 years, Karen Jasper, of Three Rivers; one son, Kenneth Jasper Jr., of Bellville, IL.; six grandchildren, Andrew, Jeffrey, & Justin Jasper, Shawn King, Christine Barney, and Scott Barney; one great-granddaughter, Kaitlynn Jasper, many nieces and nephews and his first wife and close friend, Esther "Leota" Furey.
The family will receive friends from 2-4 and 6-8 p.m. on Friday, February 27th, 2015 at the Hohner Funeral Home.
Funeral Services will be held at 10:30 a.m. on Saturday, Feb. 28th, 2015 at the Corey Church of the Nazarene with Pastor Gary Carr officiating. Memorials may be donated to the Corey Church of the Nazarene. Online condolences may be left at www.hohnerfh.com.