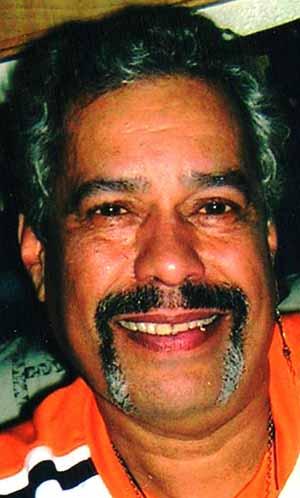 Henry "Chipper" E. Jones II, 59, formerly of Niles, went to be with our Lord at 4:05 p.m. on Sunday, March 15, 2015 at his home, with family at his bedside.
Henry was born on Nov. 11, 1955 in Pawating Hospital in Niles. He was the third child, the only son, of Henry L. and Florency J. Jones.
Henry grew up in Niles and graduated from Niles Senior High School in 1973. He traveled to the west coast with friends to Las Vegas, Nev., and Los Angeles, Calif., eventually settling in southern California, to reside there for many years. While in California he worked as a pool man, which provided him the opportunity to meet many celebrities. In his home he proudly displayed autographed photos of Victor Mature and Muhammad Ali.
While he enjoyed his life in California, he eventually moved back to Niles and later, to Three Rivers. During these years, Henry worked in various industrial settings as a factory worker. Always having a love for music and entertaining those around him, he began singing karaoke for enjoyment, and was a member of the American Legion Post #170 in Three Rivers. He also enjoyed fishing, the Three Stooges, old television shows and movies/westerns, cooking/barbequing, NASCAR and was an avid football fan of the Detroit Lions and University of Michigan teams. He dearly loved his four cats and affectionately called them his "kids." Henry was very social and he truly appreciated the many, many people he called friends.
Henry is preceded in death by his parents, Henry L. and Florency J. Jones. Because of his decision to accept our Lord as his personal Savior, we know that he has been reunited with them again.
He is survived by his sisters, Sharon (Luis) Sanchez, Judy (Jim) Quick and Patricia (Steve) Wooldridge, all of Niles. His only nephew, Favian Kluth of Niles, and his only niece, Jessica (Jon) Cass of Dearborn; his girlfriend, Monica Chapman of Three Rivers, many young men and women, and children that called him "Poppa," who he dearly loved and were his extended family.
We wish to express our thanks to the medical/nursing teams at Borgess Medical Center in Kalamazoo and Southern Care Hospice in Portage for the quality care they gave Henry over the past few weeks of life. A special thanks goes to Wendy Eash for the exceptional, loving care she provided to Henry in his final days.
Funeral services will be held at 1 p.m. on Thursday, March 19 at the Halbritter Funeral Home in Niles with Pastor Clark Polly of Victory Family Worship Center in Three Rivers officiating. Burial will take place at Mission Hills Memorial Gardens, Niles.
The family will receive relatives and friends from 6-8 p.m. on Wednesday at the funeral home.
www.halbritterfunerals.com