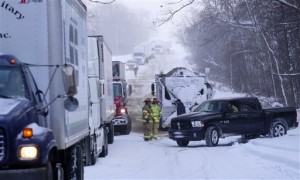 Dozens of drivers are being ticketed following January's massive pileup on snowy Interstate 94 in southwestern Michigan that killed a 57-year-old trucker and closed a stretch of the roadway for two days, police announced Thursday.
Traffic citations for 63 drivers, mostly for traveling too fast for road conditions, come after Michigan State Police completed the investigation into the Jan. 9 chain-reaction crashes, which involved 193 vehicles on both sides of the freeway east of Galesburg.
"This crash is a vivid illustration of the dangers of traveling too fast on icy and snowy roads," First Lt. Dale Hinz, commander of the state police's Paw Paw post, said in a statement. "As drivers, we are responsible for controlling our vehicles at all times, no matter the weather or roadway conditions."
The investigation found that the primary cause was traveling too fast, with the weather a contributing factor, police said. Michigan requires drivers to go at a "careful and prudent speed" based on road conditions and most are being cited for violating that law.
Jean Larocque, 57, of Quebec, died after crashing into the back of a tractor trailer hauling vehicles, police said. Eighteen people from seven states and Canada were injured, police said, and five emergency workers were treated for minor injuries sustained while responding.
According to a police account released Thursday, the first crash happened about 9:20 a.m. in the eastbound lanes during heavy snow, when a semi-truck rear-ended a van, causing the van to collide with a passenger car. The van then collided with the guardrail.
In all, 26 commercial vehicles and 34 passenger vehicles were involved in the eastbound crash. That included a tanker hauling 44,600 pounds of liquid formic acid that overturned next to a semi-truck loaded with 40,000 pounds of fireworks. The two trucks, as well as the formic acid, burned.
The westbound crash began about 3 to 5 minutes after the eastbound crash when motorists, distracted by the crash in the eastbound lanes, lost control of their vehicles, police said. The westbound crash involved 50 commercial vehicles and 83 passenger vehicles.
State police plan to work with the Michigan Truck Safety Commission and Canadian officials to raise awareness among commercial drivers in hopes of preventing future such crashes. Allowing extra stopping distance between vehicles is key for all drivers, Hinz said.
"Numerous drivers of both commercial and passenger vehicles were able to safely stop their vehicles without crashing," Hinz said. "These drivers were observant and travelling at prudent speeds for the conditions."  (AP)