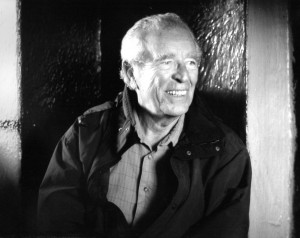 John Joseph Donnelly died on Friday, March 13, 2015 at Borgess Medical Center after a short illness caused by complications of heart disease.
John was born March 21, 1925 in Ontonagon, Michigan, son of Joseph Michael Donnelly and Virginia Testman Donnelly. He attended public and parochial schools in Ontonagon, East Grand Rapids, Lansing, and graduated from Houghton High School in 1942.
John started his college studies in Forestry Science for one year before he volunteered for the Marine Corps in June 1943. He served with the 2nd battalion, 9th Marines (3rd Marine Division) on Guam and Iwo Jima and was preparing for the invasion of Japan when the atom bomb ended the war. He was discharged in March of 1946.
He returned to Houghton, MI, and continued at Michigan College of Mining & Technology (Michigan Tech) and graduated with a degree in Mining Engineering in 1949. He worked in various hard rock mines in Idaho, Montana, Utah, Colorado and Michigan. He then became a mining and construction equipment salesman for Ingersoll Rand Company in Denver, Ishpeming, MI, and Pittsburgh.
In 1958 he met and married Ann Nee (from Connemara in Galway, Ireland) in Pittsburgh, PA, at St. Paul's Cathedral. They had seven children: Joseph of Albuquerque, NM, Bridget (Stephen) Barrer of Ann Arbor, MI, Maura (Robert) Christlieb of Madison, WI, Rachael of Three Rivers, MI, Veronica of Virginia Beach, VA, Johannah (deceased) and Brendan (Emily Kania) of Ann Arbor, MI. 10 grandchildren: Kaitlin, Eileen and Aidan Barrer; Maeve & Rory Christlieb; Nick and Alaina Moore; Colin Van Zalen; Robert Heath; and Darya Donnelly. He was preceded in death by his parents; two brothers, Terrance F. Donnelly (2005) and Joseph M. Donnelly Jr. (1947); and his daughter Johannah Donnelly. He is survived by his sister Joan Therese (Richard) Sampson of Three Rivers.
John and Ann spent seven years in Denver where he was a drilling and blasting contractor. In 1967 they moved to Three Rivers where he worked for Michigan Power Company in charge of their construction programs. Upon retiring in 1987 he took part time work inspecting on various cross country pipeline projects in the Midwest. They lived at Fishers Lake since 1970.
John was a member of the Immaculate Conception Church in Three Rivers where he was a past member of the parish council and the school board. He was also a lifelong member of the Elks Club (Cripple Creek, CO).
He was a member of the American Legion and the St. Joseph Chapter of the Marine Corps League. Last September he participated in the Talons-Out Honor Flight.
John loved his family, church, country, whiskey, his Irish heritage, Fox News and anything Republican.
Visitation will be held at the Hohner Funeral Home, Friday, March 20th from 3 to 8 pm. Rosary service will be held at 6:30 pm. Funeral mass will be at Immaculate Conception church at 11:00 am Saturday March 21st, followed by a luncheon in the church basement.
A burial service will take place this summer at the Holy Family Catholic Cemetery in Ontonagon, Michigan. In lieu of flowers, donations can be made to Immaculate Conception Catholic School in Three Rivers, MI. Envelopes available at Hohner Funeral Home in care of arrangements. Online condolences may be left at www.hohnerfh.com.