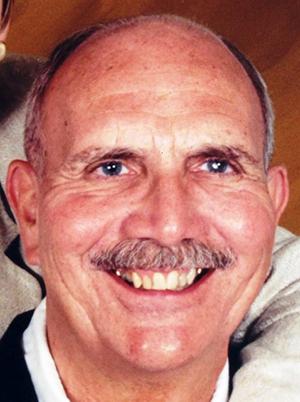 Larry R. Nelson, 71, of Three Rivers, born in Akron, Ohio, and formerly of the Edwardsburg-Niles area, as well as Wichita and Hutchinson, Kan., died peacefully Friday, March 6, 2015 at 6:38 p.m. in Spectrum-Butterworth Hospital in Grand Rapids after a short struggle with idiopathic pulmonary fibrosis.
Larry was the son of Ralph M. and D. Jane (Lagerberg) Nelson. Larry lived a full and healthy life, loving his family, God, church, friends, lakes, boats, books, music, his mountain dulcimers, cats, dogs, travel, lighthouses, and nature. He earned his master's degree in accounting from Wichita State University and excelled as a CPA and business man, co-founding two plastics extrusion companies — Liberty Industries in 1976 in Elkhart, Ind., and Blue Chip Rubber and Plastics in the 1990s in Niles. In his "retirement," Larry worked part time as Treasurer of the Presbytery of Lake Michigan in Kalamazoo and realized a dream by opening the Stray Dog Bookshop, in Three Rivers, selling used and collectable books. In addition to collecting books, he collected friends, who were enriched by knowing him.
Larry is survived by his wife of 40 years, Nickola Wolf (Nicki) Nelson. He said personal goodbyes to each of his three children, David (Elizabeth) Nelson (son, Jamie), Nichole (Karen Bivins) Nelson (children, Jessica "Lynnie" [great-grandson, Aiden], Justin, Jess Jr., Jonathon, Julie, Jaden and Josie), and Clayton (Tracie) Nelson (children, Katelynn, Bradley, Clayton and Cody). He is also survived by his two sisters, Linda (Ron) Kassner and Mary Beth "Charlie" Nagle, as well as beloved nieces and nephews of two generations. They shared the wonderful Nelson sense of humor, deep faith in God, and love of music.
Visitation with the family will be 4-6 p.m., Friday, March 13 at the Edwardsburg Presbyterian Church, 68961 Lake Street, Edwardsburg, where he served as Treasurer and Elder for many years. A memorial Service will be held, Saturday, March 14, at 11 a.m. at the church. Memorial donations may be made to the church, Edwardsburg Presbyterian Church, P.O. Box 4, Edwardsburg, MI 49112-0004.
Arrangements are by the Paul E. Mayhew Funeral Home, Edwardsburg. Online condolences may be left for the family at www.caringbridge.org/visit/larrynelson2.