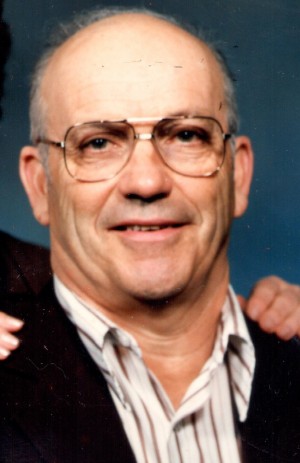 Leo George Wright, 89, of Three Rivers, passed away Thursday, March 19, 2015 at Three Rivers Health.   He was born February 10, 1926 in Elkhart, IN, to Bryan and Lois (Blanchard) Wright. Leo served in the US Navy as a Baker 3rd Class, during WWII. On April 14, 1947 he married Helen Joan Oswalt in South Bend. Leo was a member of American Legion Post #170 and V.F.W., Three Rivers. He worked at Armstrong Machine for 20 years until his retirement in 1979, and previously at Stewart Coach in Bristol for 20 years. Leo enjoyed fishing, rabbit hunting, yardwork, antique cars, and most of all his grandchildren and great grandchildren.
Surviving are his Wife, Helen Joan Wright of Three Rivers; Sons, Jeffrey (Beth) Wright; Richard (Diana) Wright both of Constantine;   Daughter-in-Law, Sharon (Kevin) Kizer of Morristown, TN; Grandchildren, Sarah Wright, Susan Wright, Natasha (Kenny) Shingledecker, Brian (Michelle) Wright, Andrew (Amanda Sadler) Wright, Corey (Deanna) Wright, Kelsey (Caleb) Sharp, Laurie (Josh) Hoffman, Great-Grandchildren Jalyn Wright, Keegan and Makenna Shingledecker, Emily, Abigail and Brandon Wright, Caleb Hoffman, and Brody Sharp. He was preceded in death by his parents, son Stephen, brother Kenneth, twin brother Leon, sister Ida Mae Gunnell, and great granddaughter Hannah Wright.
Relatives and friends will be received at Eley Funeral Home in Constantine Sunday from 3-5 PM, where funeral services will be held Monday at 1:00 PM. Pastor Randy Peterson, Porter Baptist Church, officiating. Interment will be at Riverside Cemetery, Three Rivers. Memorial contributions may be directed to Newberg Township Fire & Rescue. Online messages may be left for the family at www.eleyfuneralhomes.com.