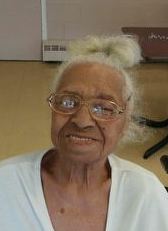 Luada Durham, age 95, of Three Rivers passed away on Tuesday, March 24, 2015 at Riverview Manor Nursing Home. Luada was born in Des Ark, AR to Gus Washington and Rosa Ann (Hill) Parham. She was one of eight children, Elijah Nathaniel, Lagertha, Cornelia, Rev. Elisha Miles, Rosetta, Bobbie Gus & William Howard Parham, whom all preceded her in death.
Luada accepted Christ at an early age. She belonged to New Jerusalem Baptist Church and various organizations. Luada never had children but raised several, including her niece, Lynda (Parham) Harris who spent every school break and summer prior to college with Luada and Roland (Tweetie) Bolton, her great nephew that she raised from the age of two. She volunteered at schools just to hold babies until she was unable to because of her unconditional love for children and people. Luada was a beautician and worked out of her basement in Parkville, MI. She loved to travel and her favorite mode of transportation was the train when she wasn't driving. She was a wonderful cook and always opened her home to friends and family for all to enjoy her delicious meals and down home hospitality.
Luada married Vernon Bonner in St. Louis, MO. The marriage ended in divorce in 1949. In 1950, she married Oglesby (Obie) Durham. They had a wonderful relationship for twenty six years. Obie preceded her in death in 1976. Her long time companion was Lucky Johnson whom also preceded her in death.
Leaving to mourn her death and cherish her memory are her devoted Great-Great Nephew Roland Bolton and his children Christopher, McKenzie and Bryanna; Niece, Lynda (Parham) Harris; Nephew, Paul D. Saunders; God-Daughter, Namesake and Niece, Kathy Luada Smith; Niece, Brenda McCaleb who lived with Luada a few years ago; along with many other Nieces and Nephews in California, Chicago, Detroit and Wichita.
The family will receive friends from 10:00 a.m. until time of services beginning at 11:00 a.m. on Saturday, March 28, 2015 at New Jerusalem Baptist Church with Pastor Tony Bennett officiating.
Interment will be held at Parkville Cemetery.
Memorial donations may be directed to the Charity of One's Choice. Envelopes available at Hohner Funeral Home in care of arrangements. Online condolences may be left for the family at www.hohnerfh.com.