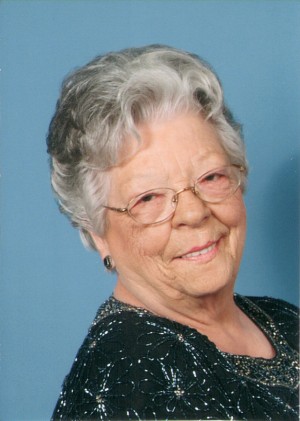 June Rose Bellows, age 87, of Constantine, passed away Friday, April 17, 2015 at Borgess Medical Center. June was born in Hartford City, IN on July 9, 1927, a daughter of James Harley and Goldia Pearl (Hizer) Fuller. June attended Elkhart Public Schools. On October 24, 1952, she married Burt Walter Bellows in Bristol, IN. He preceded her in death on March 1, 1988. June enjoyed her flower gardens, bird watching, sewing, reading, cooking, and loved giving hugs. Her greatest love was her family.
June is survived by her daughters Diana (Ed) Wise, Union; Trudy (Allen) Hall, White Pigeon; sons Jim (Sue) Bellows, Constantine; Tom Bellows, Constantine; Jerry (Dee) Bellows, Shipshewana; brother Jack (Sally) Fuller, Middlebury; 9 grandchildren; and 13 great-grandchildren. She was preceded in death by her husband, parents, and sisters Betty Fuller, Peggy Fuller, Mary Maxine Williams, Norma Jean Johnson, and Janet Kay Fuller.
Cremation has taken place. Relatives and friends will be received Saturday, April 25, from 10:00 am-11:00 am at Eley Funeral Home in Constantine where Religious Services will be held at 11:00 am. Pastor Scott Manning, Constantine United Methodist Church, will officiate. Memorial contributions may be made to the American Heart Association. Online messages may be left for the family at www.eleyfuneralhomes.com.