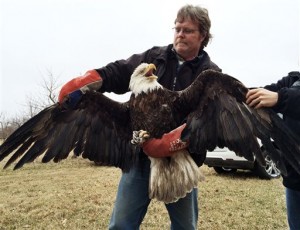 A female bald eagle has been released after recovering from injuries received during a fatal fight with a competitor northwest of Flint.
Bruce Beatty, a licensed bird of prey rehabilitator, says it appears the birds were fighting in mid-air Monday when they locked talons and plummeted into the Flint River.
The Flint Journal reports onlookers were able to quickly retrieve one of the female birds from the river, but the other drowned before it could be rescued.
Beatty says the surviving eagle was taken to Swartz Creek Veterinary Hospital and treated for a cut on one of its wings. He then took the bird home and kept it in a flight cage as it continued to recover.
The eagle was released Wednesday near a nesting site at Montrose Orchards.