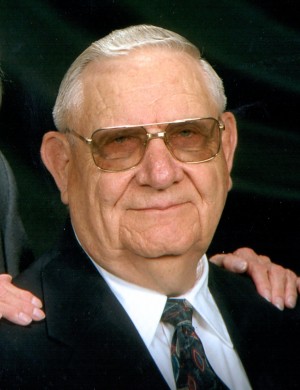 R. Duane Hassenger, Sr., age 85, of White Pigeon, MI, passed away Thursday, April 23, 2015 at home. Duane was born at his family home in Constantine Twp. on January 19, 1930, a son of Vio and Grace (Young) Hassenger.   Duane graduated from Constantine High School in 1948, where he was a pitcher on the baseball team. On March 27, 1949 he married Onalee J. Carter, she preceded him in death December 29, 1967. On February 1, 1969 he married Betty J. Crotser at Howardsville Gospel Chapel. She preceded him in death on March 29, 2015. Duane had attended Mottville Bible Church, Three Rivers Bible Church, Howardsville Gospel Chapel, and most recently Porter Baptist Church.
Duane worked at Stewart Gardner in Bristol, IN, Good Manufacturing in Constantine, and also drove a school bus for Constantine Schools for 19 years before retiring. During this time he also worked the family farm. Duane enjoyed camping, fishing, watching sports and was a Tigers and Lions fan. He loved 4-H and was a buyer for 25 years.
Surviving are his 3 children, Rick (Nancy) Hassenger, Jr., Three Rivers, Judy (Frank) Schragg, Centreville; Tim (Cynthia) Hassenger, Kalamazoo; grandchildren, Mike (Lisa) Hassenger, Bryan (Aubrey) Hassenger, Matt Hassenger, Tara (Jeremy) Smith, David (Lauren) Schragg, Steven Schragg, Christina (Allen) Durbin, Rocky Randall, Amy Hassenger; 16 great grandchildren; brother Robert (Lynna) Hassenger, Jackson, and sister-in-law Edna Hassenger, Constantine. He was preceded in death by his parents, wives Onalee and Betty, sister Pauline (Harold) Lintz, brothers Forrest (Marion) Hassenger and Kenneth Hassenger, and sister-in-law Marilyn Hassenger.
Relatives and friends will be received Sunday from 2-6 PM at the Eley Funeral Home in Constantine. Religious Services will be held Monday at 11:00 AM at Porter Baptist Church with Pastor Randy Peterson officiating. Interment will be in Constantine Cemetery. Memorial contributions may be made to Porter Baptist Church, Heartland Hospice, and St. Joe Cty. 4-H Endowment Fund. Online messages may be left for the family at www.eleyfuneralhomes.com