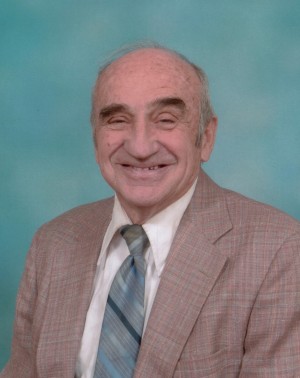 George Fredrick Myers, age 81, of Three Rivers, passed away Thursday evening, April 23, 2015 at his home surrounded by his loving family. He was born Oct. 25, 1933 in Lancaster, Ohio, the son of the late Carl Mickey and Ruth (Kaumeyer) Myers.
George was employed at the Essex Wire/United Technology Company for forty years before his retirement. He also started farming during the 1970's and after his retirement worked with his son Tim on their Dairy Farm until his passing. George loved his family, especially his grandchildren and great-grandchildren. He was an avid and faithful member of the St. Peter's Evangelical Lutheran Church where he was an elder, served on the board, and taught Sunday School. He also was a member of the Lutheran Laymen's League. He enjoyed traveling with family out West, to Canada, and Ohio.
George was preceded in death by his wife, Carol (Webb) Myers, son, Mark Myers, four brothers, Charles "Pete" Myers, Donald Myers, Paul Myers, and Richard Myers.
He leaves to cherish his loving memory, children, Timothy Myers, of Three Rivers, Sharon (Wayne) Bistodeau, of Sandpoint, Idaho, and Joanna (Leonard) Knight, of Tatlayokolake, B.C., Cananda; daughter-in-law, Kathy Myers, of Kalamazoo; brother-in-law, Cartlige "Cart" Webb, and nieces, Becky and Susan; eight grandchildren, Stephanie, Alisha, Heather, Justin, Joshua, Jesse, and Ethan; six great-grandchildren, Jayden, Rylee, Makhira, Carolina, Markise, and Everlee, numerous nieces and nephews.
The family will receive friends from 5-8 p.m. on Sunday, April 26th, 2015 at the Hohner Funeral Home.
Funeral services will be held 12:30 p.m. on Monday, April 27th, 2015 at the St. Peter's Evangelical Lutheran Church with Pastor Bob Bartz officiating.
Interment will be held in White Pigeon Cemetery. Memorials may be directed to the St. Peter's Evangelical Lutheran Church. Envelopes available at the funeral home. Online condolences may be left at hohnerfh.com.