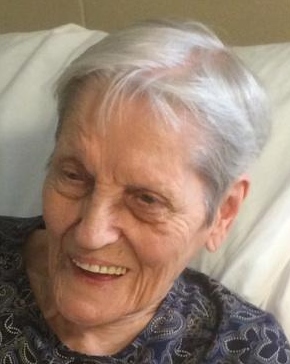 Helen Virginia (White) Richardson, age 87, of Constantine, passed away Monday, April 27th, 2015 at Thurston Woods Village, Sturgis. She was born on August 5th, 1927 in Elizabethton, TN, a daughter of George and Lucy (Furchess) White. Helen attended Elizabethton Public Schools. On April 15, 1945 in Elizabethton, she married Allen DeWitt Richardson. He preceded her in death on May 30, 1994. Helen enjoyed shopping, sewing, needlework, and hunting.
Surviving Helen are daughters Phyllis (Bill) Corwin of Washougal, WA and Judy (Bruce) Clark of Constantine; son-in-law Harry Parker of Constantine; grandchildren Tiffany (Scott) Bradley of Bristol, Scott (Paula) Parker of South Bend, Shannon (Heath) Kirchner of Vicksburg, and Josh (Aimee) Clark of Granger; great grandchildren Eric, Brooke, Morgan, Garrett, Gabrielle, and Samantha; and great-great grandchildren Aiden, Easton, and Beri-lynn. She was preceded in death by her husband; parents; daughter Linda Parker; brothers Carl, Garrett, and Robert; and sister Ida Lewis.
Cremation has taken place. Relatives and friends will be received Friday from 4 – 6 pm at Eley Funeral Home in Constantine where a Memorial Service will be held at 6 pm. Pastor Scott Manning, Constantine United Methodist Church will officiate. Memorial contributions may be directed to Thurston Woods Village or Alzheimer's Assoc. Online messages may be left for the family at www.eleyfuneralhomes.com.